Bigg boss Oviya Helen became the premiere season's most sensational contestant
Not Kamal Haasan, not Namitha or Jallikattu Julie; the woman who's been bringing home the TRPs for Bigg Boss Tamil this year, is contestant Oviya.
Bigg Boss Tamil was enjoying decent TRPs thanks to Kamal Haasan and the other contestants. But Oviya is responsible for social media timelines now being flooded with #OviyaArmy posts, Julie memes and BB Tamil discussions. The biggest surprise was when Haasan too joined the Oviya bandwagon.
The last time I personally witnessed such levels of hype for anything Bigg Boss related, was when ex-lovebirds Gauhar Khan and Kushal Tandon went all out during season 7 of the reality show's Hindi version.
In case you're still wondering what all the Oviya Helen buzz is about, here is a quick lowdown: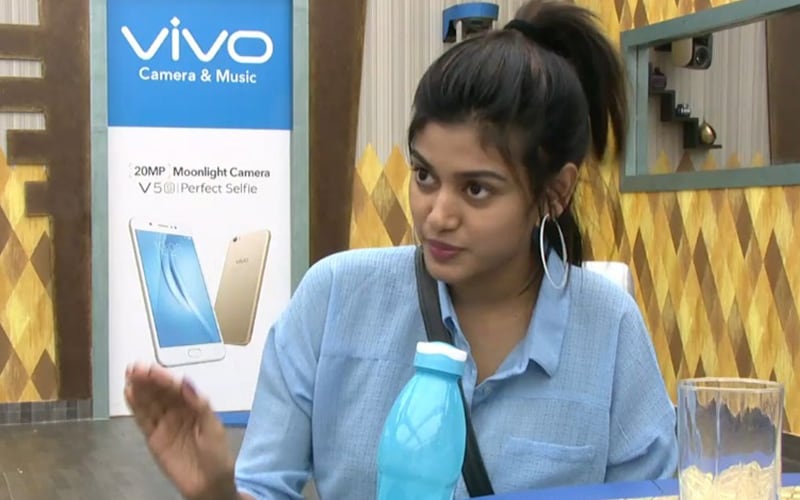 'Neenga Shutup Pannunga'
Not heard this yet? We are sure you must have seen merchandise with this phrase. Oh, there's also an anthem based on this — we kid you not. One week into the reality show, Oviya began grabbing attention for being the brash, bindass girl. She was also known for keeping away from schemers and being the frankest contestant this season has seen by far.
Now if you try to tell a contestant like that to listen to someone else — you can guess what happens next.  of course if you are going to tell such a woman to listen to whatever the other contestants or a captain in this case said. You can guess what happened next.
And that's where it all began. At least for us, the beginning of the Oviya era was when she shunned  fellow contestant Ganja Karuppu, saying, "Neenga shutup pannunga" (which means: with due respect, please shut up). After this incident, there was no stopping her. In the outside world, the audience was busy adding t-shirts with her slogan to their carts and inside the house, it was soon nine against one.